In a heartbreaking announcement, WWE chief content officer Paul "Triple H" Levesque shared on social media that Windham Rotunda, widely known by his ring name Bray Wyatt, passed away at the age of 36. Wyatt was renowned for his innovative and boundary-pushing characters in professional wrestling. His creative mind and captivating performances made him a standout figure in the industry.
An Iconic Career and Mysterious Storylines
Wyatt, whose real name was Windham Rotunda, had been part of WWE since 2009. Although he had a brief absence in 2021 and 2022 due to an unexpected release, he returned to WWE last September with a mysterious and captivating storyline. This return was marked by cryptic vignettes and enigmatic promos, which not only intrigued fans but also boosted television ratings.
"Just received a call from WWE Hall of Famer Mike Rotunda who informed us of the tragic news that our WWE family member for life Windham Rotunda — also known as Bray Wyatt — unexpectedly passed earlier today," Levesque wrote on X, formerly known as Twitter. "Our thoughts are with his family and we ask that everyone respect their privacy at this time."
A Legacy within a Wrestling Dynasty
Bray Wyatt came from a wrestling lineage. His father, Mike Rotunda, achieved fame in WWE under the moniker Irwin R. Schyster, among other names. His uncle Barry Windham was a respected wrestler during the 1980s and early 1990s, known for his association with the prestigious Four Horsemen stable. Rotunda's brother, Taylor, also wrestled for WWE as Bo Dallas.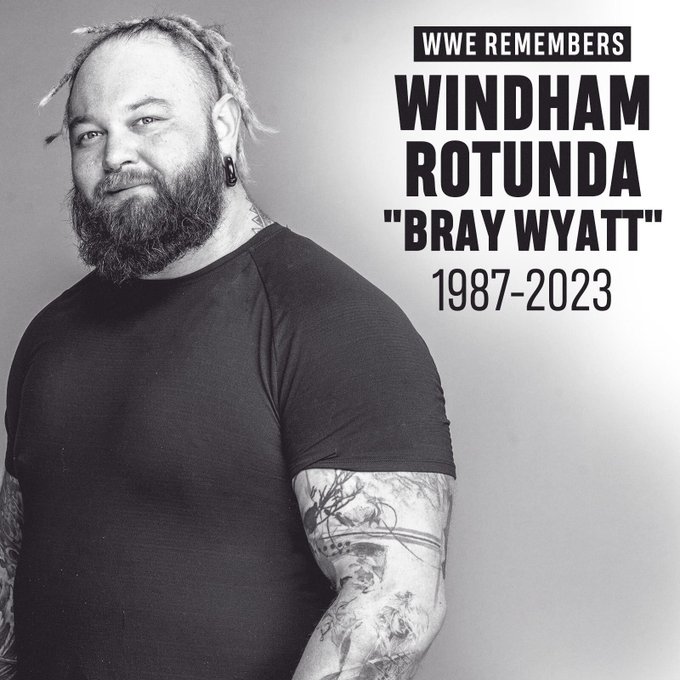 Personal Life and Achievements
Windham Rotunda was married to former WWE ring announcer JoJo Offerman. The couple had two children, and Rotunda had two more children from a previous marriage. Throughout his career, he earned accolades as a two-time WWE Universal champion and a former WWE champion.
The Evolution of Bray Wyatt
Starting as Husky Harris in WWE's developmental program, Rotunda transformed into Bray Wyatt, a captivating character who led a swampland cult with an eerie charm. Alongside his Wyatt Family members, he gained popularity in WWE's developmental brand, NXT, before making a grand entrance to the main roster in 2014.
Also Read : Isaiah Simmons Traded to the New York Giants
During this phase, Rotunda's storytelling skills shone, and catchphrases like "follow the buzzards" and "he's got the whole world in his hands" became synonymous with his character. His entrances, with the arena immersed in darkness and fans holding up cellphone lights, created an eerie atmosphere matched by his haunting music.
The Fiend: A Dark Alter Ego
In 2019, Rotunda reinvented himself as The Fiend, a supernatural character characterized by a terrifying clown-like mask. While Bray Wyatt continued to feature in family-friendly segments known as Firefly Funhouse, The Fiend took center stage as a formidable and enigmatic wrestling persona. This creative leap divided opinions due to The Fiend's near invulnerability in the ring, but it undeniably added a captivating element to WWE's television programming.
A Life Cut Short
Despite his creative contributions, Rotunda's career faced setbacks, and he was released in 2021, only to return with a new storyline. However, health issues interrupted his journey, and he disappeared from television screens in February.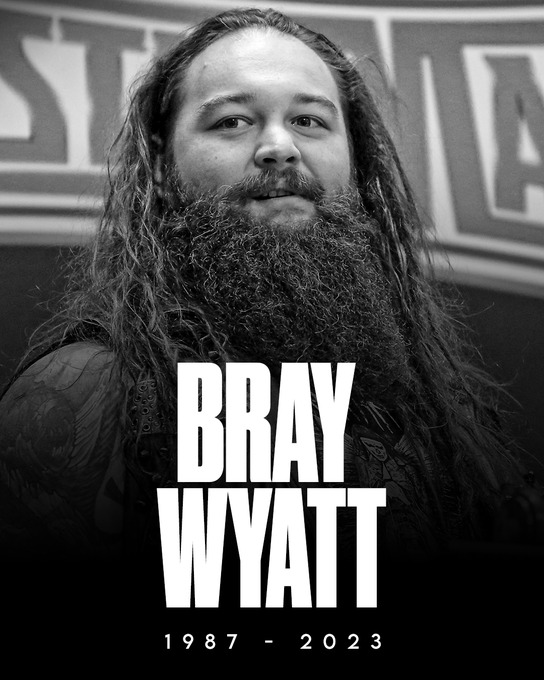 The wrestling community mourns the loss of a unique and exceptional talent. Dwayne "The Rock" Johnson expressed his respect and admiration for Rotunda's character and connection with the WWE universe.
While his physical presence may have left us, the legacy of Bray Wyatt's creativity and captivating performances will undoubtedly endure in the annals of professional wrestling history.
The wrestling world mourns the loss of not just a wrestler, but an artist, a storyteller, and a friend. Windham Rotunda may have left this world, but his legacy lives on in the hearts of those who were fortunate enough to witness his brilliance.
---
FAQs about Bray Wyatt's Passing
1. What were Bray Wyatt's most notable characters? Bray Wyatt was known for his transformative characters, including the eerie cult leader persona and the supernatural entity known as The Fiend. These personas showcased his remarkable creativity and storytelling abilities.
2. How did Bray Wyatt's characters impact the wrestling world? Bray Wyatt's characters pushed the boundaries of traditional wrestling personas. His ability to create mystique, engage the audience, and develop intricate storylines set new standards for character development in professional wrestling.
3. What were some of Bray Wyatt's achievements in WWE? Throughout his career, Bray Wyatt achieved significant success, becoming a two-time WWE Universal champion and a former WWE champion. His compelling performances and unique characters played a pivotal role in his championship victories.
4. How did Bray Wyatt's return to WWE in 2021 unfold? Bray Wyatt's return to WWE in 2021 was marked by a mysterious and intriguing storyline. His enigmatic promos and cryptic vignettes generated excitement among fans and contributed to a boost in television ratings.
5. What legacy does Bray Wyatt leave behind? Bray Wyatt leaves behind a legacy of creativity and innovation in professional wrestling. His characters and storytelling techniques inspired a new generation of wrestlers to think outside the box and redefine the possibilities of character development.
6. How did Bray Wyatt's passing impact the wrestling community? Bray Wyatt's passing deeply saddened the wrestling community. Fans, fellow wrestlers, and industry professionals expressed their grief and remembered his contributions to the world of sports entertainment.
7. What was Bray Wyatt's connection to his wrestling family? Bray Wyatt came from a wrestling dynasty. His father, Mike Rotunda, and uncle Barry Windham were both respected figures in the wrestling world. His brother, Taylor, also had a wrestling career under the name Bo Dallas.